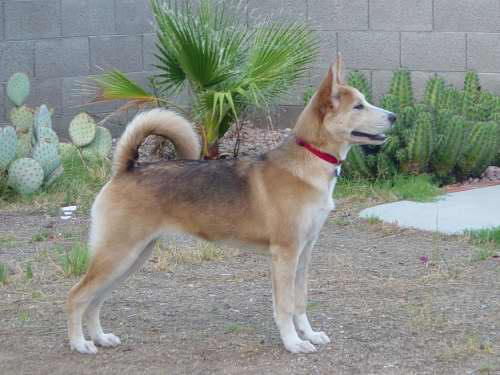 AGE:2 Years

A.K.A.: "Miss Mesa" "Miss M"

HANGOUTS: Kitchen Floor, Doorways, Couches and Sofas, Laps

HOBBIES: Barking in the middle of the night at nothing, Barking at people on bikes, Barking at children, Going to the park to spend 30 minutes sniffing the same two blades of grass, Biting Dougal, Tug, More barking

FAVORITE TOY: "Silly Sally" (stuffed cat), Wooden Spoons


Of our two dogs, Mesa is the fuzzy cute one people try to pet; the irony of course is that she is in fact the mean one. She's never bitten anyone, but there is a "Will Bite" sticker on her folder at the vet's office from one too many close calls. She's been mistaken for both a wolf and a fox. When we got her, we were told she was a Lab/Great Dane mix; she seems to be neither.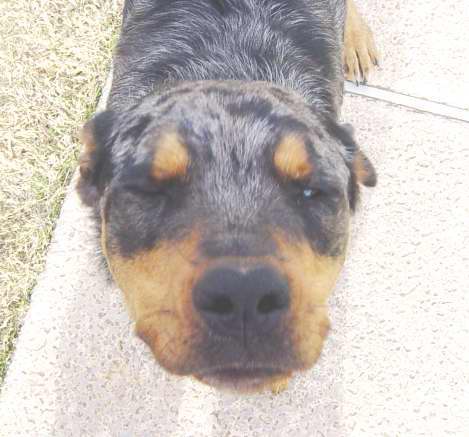 Dougal
AGE: 2 Years

A.K.A. "Doogie"

HANGOUTS: Wherever you are

HOBBIES: Whatever you're doing

FAVORITE TOY: Whatever you have, or, if you're not around, the cat

Dougal is an Austrailan Shepherd/Rottweiler mix. Can you believe we found him at an animal shelter? Look at that face! Who in their right mind would give him up? Dougal is named after Father Dougal McGuire from the BBC sitcom "Father Ted." You'd have to see the show to know why the name is so perfect. Dougal loves everything and everyone and is often unjustly accused of being ugly. We think he's beautiful.