If You're Norm Abram: A Woodworker's Project Journal
Step One: Inspiration
If you're Norm Abram, the first step to any woodworking project is packing up your flannels along with a dependable measuring tape and a truly ugly sweater and boarding a flight to somewhere inspirational, like, say, the Bermuda or Europe. Anywhere they've built something out of wood is fair game, but luckily for you (you're Norm, remember), the best examples of fine woodworking just happen to be in some of the world's most popular tourist destinations. You'd think the Afghans or the Serbs might have hand crafted a distinctive side table worth visiting, but no, apparently they haven't. Anyway, once you've arrived in Rome, or London, or St. Barts, you'll find a museum or antique shop chock full of furniture musty with local flavor. Hand chiseled joinery of all kinds will be fascinating, as will exquisite finish patinas and authentic brass drawer pulls. "I just love these bun feet, which are also called onion feet," you'll gush, lovingly caressing the bun (or onion) feet on a mahogany blanket chest. And while blanket chests made of mahogany are common, examples of Bermudian blanket chests are, naturally, best appreciated in Bermuda. Thus inspired, you'll announce your intention to measure the piece for recreation as this week's project back in the New Yankee Workshop. And after you've filmed your ten minute segment, you're free to enjoy Bermudian beaches and blue Bermudian oceans brought to you by viewers like me.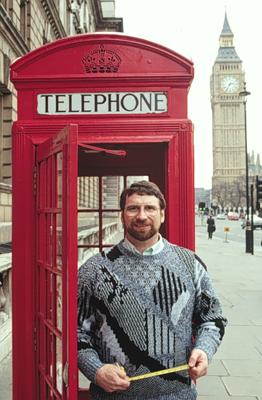 Is Norm inspired or just happy to see you?
If you're me, however, inspiration must necessarily strike a little closer to home (as you will see, often as close as my living room), and recreating classical furniture styles is pretty much a non-issue. If you're me, you don't work with mahogany of any nationality because it's way too expensive. While most wood is sold by the board foot, mahogany is priced by linear inch. What this means is that a 2X4 made of mahogany (if such a thing existed) would cost around $30.00, as opposed to $1.20 for one made from pine. If you're Norm Abram, you're often found merrily sawing your way through vast expanses of mahogany. Since relatively little is brought to me by viewers like you, you'll find most of my creations are pine. The whole reason wood stains exist is so that poor suckers like me can attempt to make pine look like mahogany (trivia!), though anyone who actually cared about such things wouldn't be fooled. It reminds me of those Designer Imposter Cologne ads that said, "If you like Giorgio, you'll love Primo!" Well, if you're Norm Abram, you like Giorgio. If you're me, you love Primo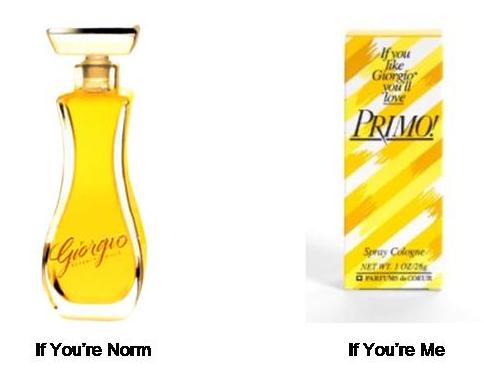 But luckily for me, inspiration is free. (I'm a poet, and I know it.) Verily, inspiration, like true love, has often been right there in front of you the whole time, just waiting for you to see past its lazy eye and club foot and finally notice its inner beauty. That's how, as I reclined in repose in the temple of my familiar (a.k.a. my living room), I was smote by the smiting smite of inspiration. Something I see almost every day suddenly struck a new cord deep within the woodworking part of me. It kind of tingled. How could I have been so blind to such blatant charm for so long? It was so obvious. It was so perfect. It was this: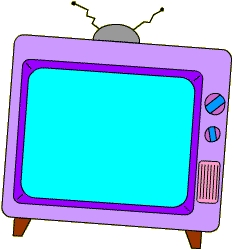 Teacher, mother....secret lover.
This, however, is no ordinary cartoon television set. It's the only TV that receives such fine programming as Ethnic Mismatch Comedy #644, America's Funniest Tornadoes, and the soap opera It Never Ends. You can catch all 7 episodes England's longest running sitcom, Do Shut Up and match wits with contestants on the game show Touch the Stove. And all with the existential twist of only being able to see this television on television. For any of you still groping about in the shameful darkness of cultural illiteracy wondering, "Just where is this fantastic TV and why wasn't I made aware of existence before now?" I'll give you a hint. It's the TV Homer Simpson surreptitiously embraces and calls "Teacher, mother…secret lover."
What could be more inspired than a display case for Simpsons collectibles made to look like the Simpsons TV? Absolutely nothing! And even if Mr. Norm Globetrotting Fancy-Britches Abrams had thought of it, he'd be out of luck because this is one piece PBS can't fly him out to admire in person. So nyah nyah nyah.
Step Two: Selection of Materials
If you're Norm Abram, you'd begin this project by happening upon a few sheets of pre-finished AAA grade plywood magically standing on end as you stroll through the mahogany forest of your enchanted workshop. "This is just the material I need," you'd say, if you were Norm. Oh, happy coincidence! You'd absently run your hand along its glassy-smooth surface while talking about how darn nifty the stuff was to work with. "It's expensive," you'd say, "but well worth it for the mount of time it saves. Come on, let's get started!"
If you're me, however, you'll begin the project by spending three hours down at the Home Depot going through a bargain bin of ZZZ grade Taiwanese plywood-like product, looking for a sheet that doesn't look like it was found washed up by Katrina in some Texan bog. No one at the Home Depot has ever even heard of anything like the plywood Norm is using much less stocked it, and even if they had, it would certainly be out of your budget since you're me. A full sheet of ¾" thick plywood is eight feet tall, four feet wide, and weights about 75 pounds, so getting to the flatter-looking ones buried in the bottom of a stack isn't easy or necessarily rewarding, especially when you finally do dig it out only to find it cracked down the center. Add to this the significant weight of your Significant Other's impatient stares, bored sighs, and "are we done yet?" toe tapping, and you've got quite a workout on your hands. Here's some advice you won't get from Norm: never bring Shawn wood shopping.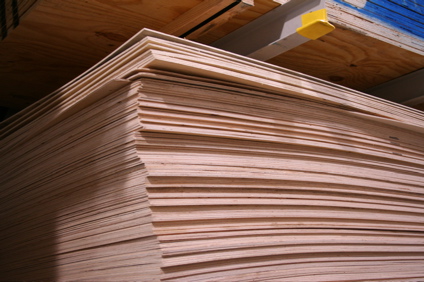 The third one up from the bottom looks good....
When you're me and not Norm Abram, you'll find that finally deciding on a sheet of plywood is only half the battle. It's not going to magically materialize in your workshop the way it does for Norm. Half of the other half of the battle is getting the plywood into your van (you do have one, you're me), and the final quarter of the battle is getting it back out again. Here's some more advice you won't get from Norm: be very careful opening your van's hatchback once you get the plywood home. If you're me, you'll have the hatchback open about four inches when the plywood will suddenly slide out from under it at impossible speed and bash you square in the shins. Trust me; it's bloody, splintery, and unpleasant. If you're me, you'll notice that it sometimes sucks to be me.
Step Three: Assemble the Carcass
I'll bet you didn't know that the basic box any cabinetry project begins with is called a carcass (trivia!). And even if you did know that, I bet you've never built one. And if you have built one, I'll bet it wasn't inspired by a piece of cartoon furniture. And if it was, then I invite you to go read a blog detailing how to best canoodle yourself.
Before you can begin assemble the five pieces of your carcass, you've got to cut the plywood up into those five pieces. If you're Norm Abram, step one of step three is walking toward your customized Delta Unisaw while saying, "Before we use any power tools, let's discuss shop safety." A montage of you, Norm, confidently and safely operating a variety of power tools will soft fade in and out during your rather lengthy speech about both reading and understanding the instructions that came with your power tool. "And remember this," you'll conclude, "there's no more important safety rule than to wear these," and here you'll pause to tap the pair permanently grafted to your face, "safety glasses."
Now, if you're Norm, you're finally ready to get down to business. Or, rather, if you're Norm, you've somehow already managed to get down to business. "I've adjusted the bade height, set my fence, and installed these feather boards on my fence to keep my workpiece nice and flat," you'll say, "and, as you can see here, I've already measured and cut the sheet of plywood down into five smaller sections, which will make it a lot easier to work with." Oh, have you, Norm? And just when, exactly, did you do all that? During the safety glasses montage? Even Norm Abram couldn't do all that that fast, and since you are Norm Abram, I ain't buying it.
Is Norm Abram faster than Norm Abram?
If you're me, however, step one of step three finds you pretty much as you were at the end of step two, staggering about in the driveway with an absurdly awkward and heavy piece of wood. If you're me, you'd logically live where I do, so you'd have the two creepy little red haired girls that live across the way who remind you of the two little girls haunting the hotel halls in The Shining ("Come play with us, Danny…for ever and ever...") staring at you with their creepy, vacant eyes as they circle you on their little pink bikes. Remember, if you're me, you've just had your shins bashed too, which is why you'd like to remind your readers that, regardless of what Norm says, there's no more important safety rule than to wear these, pause and point to where they would have been had you been wearing them, shin guards. And although you haven't got a cabinet saw with thousands of dollars worth of customizations (And why would you? Who do you think you are? Norm Abram?), you do have a pair of saw horses and a circular saw you got on clearance.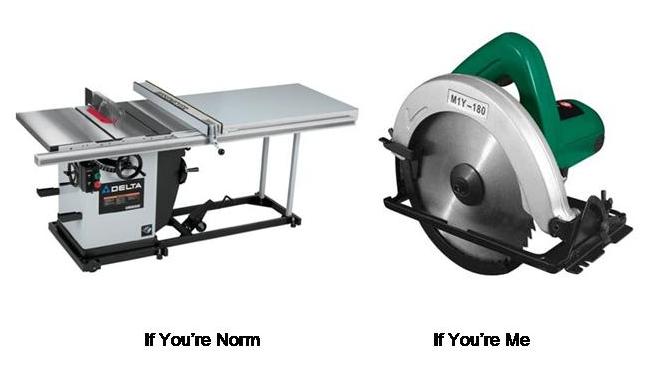 In a recent episode of the New Yankee Workshop, Table Saws 101, Norm was heard to remark that his table saw handled as smoothly as a luxury car.

I suppose, if you're Norm, that's a comparison you're in a position to make. If Norm's table saw is the power tool equivalent of, say, a classic Jaguar XJ (and it is), then your circular saw, if you're me, is a 1972 Ford Pinto.

Like the Pinto, your circular saw has been defamed due to safety hazards, specifically the lack of an electric brake that stops the very sharp and very exposed blade from spinning after you've finished making a cut.

Well, the Emergency Room's loss is your gain, because with the money you've saved you can now afford other essentials for your project, like wood glue and cigarettes.

Anyway, the circular saw and the table saw, like the cars, essentially do the same thing.

They both have a motor that spins a blade. That's why the British call a table saw a "circular saw bench" (trivia!).

True, if you're Norm, you'll look more stylish driving your car or cutting your plywood, but if you're me, you could theoretically do both at once.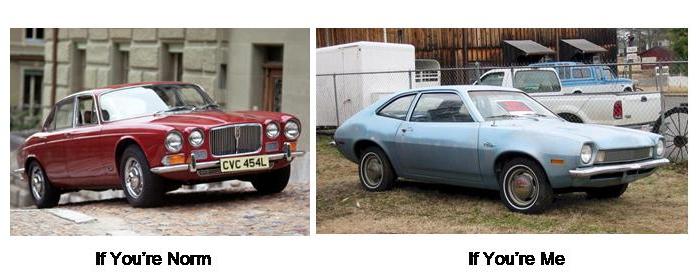 And if you're me, you've been trying like heck just to get the plywood onto the sawhorses so you'll be composed and ready to go at the end of the safety shin guard montage. Embarrassingly, this is becoming something of a chore. Because you're me and not Norm, you've bought space-saving sawhorses that fold-up for convenient storage because, unlike Norm, your workshop is actually a garage and Shawn will unreasonably insist on parking his car in it. I bet nobody tries to park a sedan in the middle of Norm's workshop, but I (and you, if you're me) digress. If you're me, you're discovering that sawhorses designed to fold up will do so indiscriminately, regardless of their sworn duty to uphold one end of an eight foot length of plywood while you wrestle with the other. Even when you manage to keep the traitors upright there's no guarantee they'll stay in place. The best of both worlds, of course, is when one sawhorse collapses and the other slides off in some random direction, leaving you a hobbled monkey in the middle with way too much wood on his hands. All of this would be easier if you a had a helper, but, if you're me, your lovely assistant's undying devotion seems to have lapsed into a resentful coma after "wasting an entire Saturday morning" in a certain home improvement warehouse, and even mentioning the word "wood," however coyly, is bound to get you in trouble.
In the end you'll devise an unconventional solution to the tipsy sawhorse dilemma, because, if you're me, you're more than just another unconventionally handsome face. You'll find that crawling under the plywood and balancing it on your head while pulling the sawhorses in under either end isn't pretty, but it gets the job done. Besides, nobody saw you, and if you didn't have to put everything in that damn blog of yours nobody would ever know, so stop making us look like rubes.
Now you're ready to grab that circular saw and start making this sheet of plywood your bitch. It'll feel good to cut some wood, rather than having the wood cut you. Whoa! Not so fast there, Sparky (if you're Sparky). First, you need to take some careful measurements and mark your cut lines. If you're me, you'll take a considerable amount of time doing this, never suspecting that level of precision you're expecting is impossible with circular saw (Don't say anything, though, it'll spoil the funny surprise.). Your assumption that a circular saws always cut in a straight line was proven false three unfinished projects ago, so you know better than to start cutting without first constructing some sort of saw corral. Ain't nothin' worse than an ornery circular saw, hoo boy! If you're me, you've sacrificed your romantic relationship for the sake of finding this particular piece of plywood, and that leaves you with plenty of alone time and no excuse not to cut it up right. So, to recap, you've got your wood on the sawhorses, you've measured your cult lines, and you've clamped on a saw corral. Lookin' good! Of course, in the time it took you to set this up, Norm has built a granite-topped kitchen island, a replica of an early nineteenth century bonnet-topped Queen Anne highboy, a wall of crown molding-topped barrister bookcases, and is now relaxing out behind his magic workshop in a Norm-topped Adirondack recliner he made himself.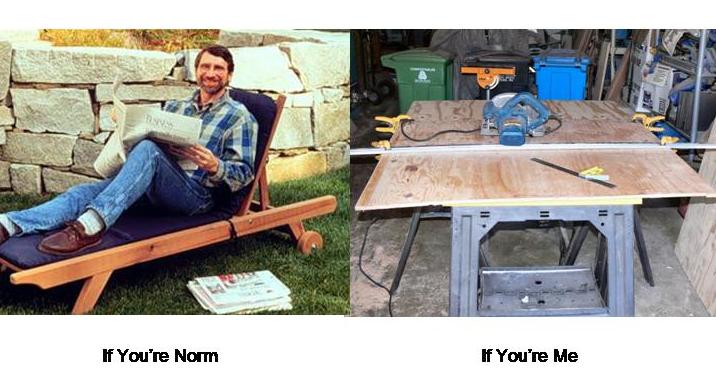 Well Norm may have precise, expensive equipment, he may have Corporate sponsorship, he may wear Giorgio and drive a Jaguar XJ, but, if you're me, you're about to build something nobody's ever made before, and that makes you an artist and Norm a hack. Being the more camera-friendly of the two counts for nothing. Corporate sponsors like DeWalt and Porter Cable power tools simply can't handle you because, if you're me, you're too real. This could also explain why your employer's HR department and that one Red Lobster waitress seem to have trouble handling you, too. So, good for you, and, since you're me, good for me! Perhaps now would be a good time to tell you how much I've always admired the way you triumph over adversity. Sometimes you amaze me. By the way, were you aware that that saw isn't plugged in? I'm not implying anything, you just looked a little confused there when you turned the saw on and nothing happened. I know you know what you're doing! Well, excuse me for trying to help, Mr. Know-It-All! No wonder you're all alone out here. Oh yeah? That's pretty tough talk for a guy who just got his ass kicked by a piece of wood. I don't have time for your nonsense anyway; the New Yankee Workshop will be starting soon and they're flying Norm to Tokyo to look at a wood-framed mirror.
Where was I? Or, rather, where were you? Ah, yes. You may now commence the cutting of your plywood. In fact, you may now spend the next two days cutting your plywood. If you're me, that's how long cutting five board of exact dimensions will take you, exactly because the dimensions will keep changing. Inevitably, if you're me, you'll wind up with one piece that's longer or wider than it should be, despite your meticulous measuring. When you trim it to size, you'll discover that it's now shorter or narrower than it needs to be, and, if you're me, in some cases it will be both too narrow and too short. If you were working off some sissy blue print like a certain television personality you sometime are does, then you'd be in a pickle. Luckily for you you're me, and you'll simply throw your tantrum (thus effectively proving that the workshop is truly no place for children) and then get on with making all your other pieces shorter and narrower, too. That way, all the pieces will still fit together. You're still well on you're way to achieving your (my) unique and inspired artistic vision, even if it's a shorter and narrower version of that vision.
Now that you've finally sawn your five boards apart, it's time to put them back together. If you're Norm, you'll grab your pneumatic nail gun and slap it all together, which is inexcusably lazy given the tools at your disposal. If you're Norm, you could easily assemble it with dado joints cut on your table saw. You could mortise and tenon to your heart's delight on your deluxe drill press and band saw. What about some grabbing the ol' router and churning out some dovetail or finger joints? Well, Norm? These joints are the fingerprints left on a piece by a master craftsman. Indeed, they're the very thing that, if you're Norm, makes your tape measure snap to attention when found on a charming Tuscan chifferobe or antique Southwestern headboard.
To be fair, sometimes, if you're Norm, you'll admit you're taking shortcuts. "I really should be using a Triple Lutz reverse Salchow joint here," you might say, "but it wouldn't add any overall stability to the piece and it would just take too much time to make." Excuse me? If you're Norm Abram, what's more important that the craft of woodworking? If you're Norm Abram, what else do you even do? What's the rush? Is the New Yankee Workshop now being broadcast live? If so, how they get you, Norm, back and forth to Aruba in under an hour is an Ancient Norman Secret.
Strangely enough, if you're Norm, even a half-assed assembly turns out looking pretty good. If you're me, you suspect a fingerful of machine oil has been smeared across the New Yankee Workshop's lens. If you're me, you'd never slap all your pieces together using a pneumatic nail gun, most likely because, if you're me, you haven't got one. You haven't got Norm's table saw, band saw, or drill press, either. If you're me, your project, like Norms, will not bear the fingerprints of a master craftsman, which is fine because you'd be painting over them anyway. But this doesn't mean you'll be cutting corners. In fact, if you're me, you're going to join the five pieces using pocket screws, wood glue, and biscuits. I'd explain what pocket screws and biscuits are, but you're me, so you know exactly what I'm talking about. You know that employing these methods will result in a ridiculously strong joint (important since you seem to move fairly frequently) that will keep all unattractive fastening hardware concealed within the joint. Employing these methods will also require the use of power tools that you, if you're me, actually own. The downside, however, is that these methods will result in drilled holes and slots which must align perfectly, else all will be rendered wobbly and the entire workshop will have to be burned down to eradicate all traces of your shameful failure.

If you're Norm, you've got a special "assembly table" where you put your projects together. If you're me, you've got a special section of "garage floor" where you put things together. If you're Norm, you're oft heard to remark, "Now, with any luck, these two pieces should line up perfectly….and look, they do!" Well, quelle surprise! Pardon my French (French!), but everything always lines up perfectly for Norm. Just once, I'd like to see Norm overcome some adversity, like, say, a misaligned joint or some lost luggage. If you're me, you've got adversity in spades. If you're me and they were going to name a fragrance after you, it would be called "Adversity." If you're me, you're often heard to remark, "Now, with any luck, these two pieces should come slightly close to maybe kind of lining up…and look, they don't! Fuck! Fuck this cheap warped wood! Fuck the tree that bore it! Fuck the earth in which the tree grew! Fuck everything! Fuckety fuck fuck fuck!!!" Now is the time when, if you're me, you'll be tempted to reach for the matches and a can of gasoline. If you're me, though, you haven't got a handy can of gasoline. If you're me, you'd have to drive down to the gas station and buy some gasoline, and the gas can, too. If you're me, you'll realize that being seen purchasing gasoline moments before a suspicious fire is likely to get some fingers pointed at you. So, if you're me, you'll ask Shawn to run down and get it for you. If you're Shawn, you'll be confused by the request and resent be woken from your nap and confused by requests. If you're Shawn, you'll refuse.
If you're me, you'll have found that shifting your attention from the woodworking problem to the arson problem has allowed your subconscious mind to subconsciously solve the woodworking problem. If you're me, or Thor, you'll suddenly remember that the best way to solve most of life's problems is with steadfast determination and a hammer. You'll find joints more agreeably fit together when given no other choice and whacking the sap out of two boards until they snap into place is more gratifying than arson any day (or, so someone with limited comparative experience, like me, would assume...). If you're me, you're not quite done conquering adversity just yet. Just because all the boards now "fit" together doesn't mean they're lined up to the perfection you most assuredly deserve. This is easily fixed by simply placing the unit face down on the concrete floor and standing on any parts not actually meeting the floor. Works wonders, and it's something you'd never hear from Norm, probably because it doesn't look very stylish to be caught jumping up and down on your latest masterpiece. Well, I admit the method isn't pretty, but who could argue with these results?
One sweet looking carcass.
Now tell me this isn't the most beautiful carcass you've ever seen. What? Gad! That is not my carcass. I have no idea what that is. Clearly an irreversible internet glitch of some magnitude has occurred, the kind of glitch which a woodworker such as me would know nothing about nor should be expected to explain.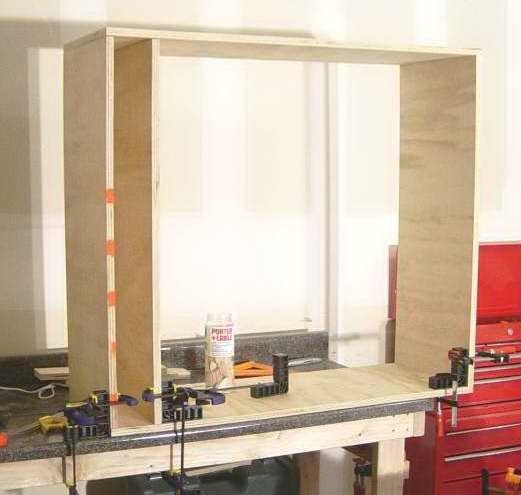 One Sweet Looking Carcass
Now tell me this isn't the most beautiful carcass you've ever seen. Since you're me I know that it is, and if you're not me, I'll simply assume you think it is, too. Life's great when everybody agrees. If you're me, you take well deserved pride in the ninety-degreeness of all the corners and the way the carcass sits there, not wobbling. Booyeah! True, most casual observes, such as Shawn, will look at this carcass, literally stained with your blood, sweat, and tears, and fail to be duly impressed. Why? Because they're used to watching Norm Abram build an entire house in the time it took you to get these five boards assembled. Well, you could sit around all day resenting Norm (although, if you're Norm, that's probably really unhealthy), or, if you're me, you can move on to step four, assembling the face frame for your carcass.
Step Four: Assembling the frame.
Now that you've built your carcass, you'll want to frame the face of it with a face frame (italics!). This will cover the unfinished plywood edges and give the piece an overall more refined look. If you're me, you can enjoy refinery without being a snob, unlike certain other woodworkers I've seen vacationing on TV. The face frame will be constructed from strips of solid oak about 1.5 inches wide. Since you can't assemble a face frame while it's being attached to the carcass, the face frame must be built in its entirety entirely independent of the carcass. This means your measurements can be nothing short of perfect.
If you're me, you excel at face frames. But, if you're me, you don't happen to have any 1.5 inch wide strips of oak hanging around your workshop because so few of your projects actually make it to the face frame stage. If you're me, you'll have to make a trip down to the Home Depot. If you're Shawn, you'll foolishly offer to accompany me, perhaps thinking that a few strips of oak couldn't possibly be as difficult to pick out as a sheet of plywood. If you're Shawn, you'd be wrong.
The thing about long, narrow strips of oak is that they're narrow and long. The longer and narrower a piece of wood is, the more time the buyer must spend inspecting it for warping. I'm sorry, but that's just they way it is. If you're me, you have no control over the atmospheric conditions that cause wood to expand, contract, and warp. If you're me, you can't help the fact that the Home Depot displays wood of this sort standing on end rather than in flat stacks, which would help avoid some of the warping. If you're me, it'll be a cold day in hell before you deliberately waste good money on bad wood just to save some time. So what if people look at you strangely as you set each piece of wood down in the center of the aisle and crawl around it to make sure that the entire length of wood lays flat against the concrete. So what if you begin to suspect that the Home Depot's floor itself isn't level and have to try this experiment in a few different locations before you're satisfied. If you're me, you're a paying customer and you demand satisfaction.
If you're Shawn, you'll swear that this is the last time you ever set foot in a Home Depot on a quest for wood. If you're Shawn, it appears you're keeping your word. If you're me, you think that's just fine. If you're Shawn, you can go ahead and be that way, but don't be surprised when I lose interest in your hobbies, like washing dishes or paying utility bills. With such domestic strife, no wonder so many men find the home workshop a safe haven where they can be alone to work their wood in peace. I suppose that's why some woodworkers are sad to see a project end. But, if you're me, you're not even halfway done yet, so there's no need to fret, although your project is coming along quite beautifully.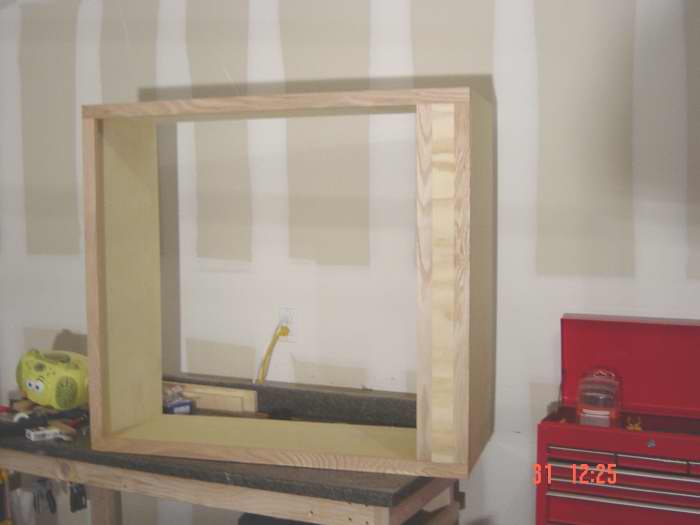 Step Five: Paint it purple.
I don't know Norm Abram personally, but if you're me, you're willing to bet he's never walked into a Home Depot and asked for paint colors with names like Luau Lavender or Purple Flurp. If you're me, nothing makes you feel manlier than bellying up to the paint counter and ordering several shades of lavender paint. If you (I) think that's fun, just wait 'til you're (I'm) wandering amidst the plastic flowers of a Wal-Mart's craft section looking for just the right shade of bubblegum pink craft paint and some decoupage glue. If you're me, you obviously know how to have a good time.
Actually, if you're me, you really don't mind the painting. If you're me, you'll actually start to enjoy yourself for the first time in weeks. You'll almost forget the never-ending sanding and filling it took to prepare your plywood surface for painting, which was so horrendously tedious that you don't even want to blog about it. If you're me, you've left the garage in haze of sanded wood particles which are now settling on Shawn's car, which, if you're Shawn, is what you get for parking in the middle of someone's workshop (conflict!). If this were to settle into your wet paint, the result would be disastrous, so you've got to do your painting somewhere else until the dust settles. If you're Norm, you have a separate wing of the New Yankee Workshop for painting and finishing called "The Finishing Room." If you're me, your finishing room is called "The Back Yard." If you're my dogs, "The Back Yard" is also known as "Outside." If you're me, this explains why dog hair keeps settling into your wet purple paint. After you've applied several coats of paint and dog hair, you'll apply several coats of acrylic polyurethane, which isn't really polyurethane at all but more like a clear latex paint (trivia!).
The Big Purple Box
If you're me, you'll want to make some "knobs" for the "TV" out of scrap wood and paint them. Then you'll make the speaker out of thin dowels painted black and glued to a rectangle of wood painted pink. Cover the knobs and the speakers with the decoupage glue to prevent the craft paint from running when you apply more acrylic polyurethane, which isn't really polyurethane at all but more like a clear latex paint (redundant!). Got all that? Well, if you're me you did. Then you've got to cut your backing board to size, paint and "polyurethane" it, and set it into the rabbet grooves I forgot to mention you made earlier with your router.
If you're Norm, you'll take a block of mahogany to your lathe and carve yourself some bun, or onion, feet. If you're me, you think bun feet are ugly and you loathe onions. Also, if you're me, you haven't got a lathe, and even if you did you still wouldn't carve the damned feet by hand when you can buy them pre-made for less than two bucks each. Unlike Norm, you do have a life outside your workshop, thank you very much.
Step Six: The beginning of the end.
If you're me, you can hardly stand how darn cool your project is starting to look. It may very well be the coolest thing you have ever laid eyes on. If you're me, you may be so overwhelmingly impressed with yourself that you'll momentarily forget that you're not finished. You've got to paint your shelves and install your shelf pins. You've got make a door for the cabinet, which will be really easy because it's just another frame and, if you're me, you're good with frames (applied knowledge!). If you're Norm, you'd have custom tempered glass made to fit the door. If you're me, you'll go for Plexiglas. Actually, you'll go through quite a bit of Plexiglas because, if you're me, it's not as easy to cut as you thought.
Then, at last, you're ready to fill it up with some priceless Simpsons collectibles. If you're me, you've got quite a lot, so this will take all of five minutes.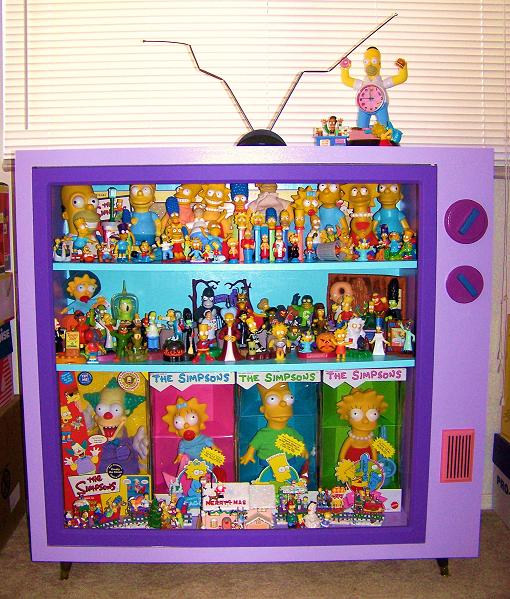 And there you have it. Your vision, if you're me, has been truly envisioned.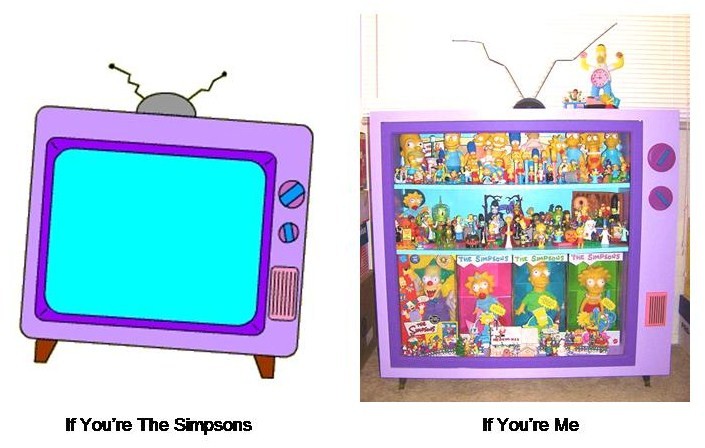 I'm sure there are less frustrating hobbies, like yoga or watching the Simpsons on TV. But none are quite as rewarding. And it's still better than going to work any day. I've shown people pictures of this completed project, and they invariably say I should go into business for myself, to which I reply, "OK, I'll do it! How many of these can I put you down for?" That usually ends that conversation.
Speaking of endings, I'll leave you now with a few shots of other projects I've completed….a dog bed I built (and Shawn upholstered) and an X-Men action figure display I made for Shawn. If you're Norm, I hope you're duly impressed.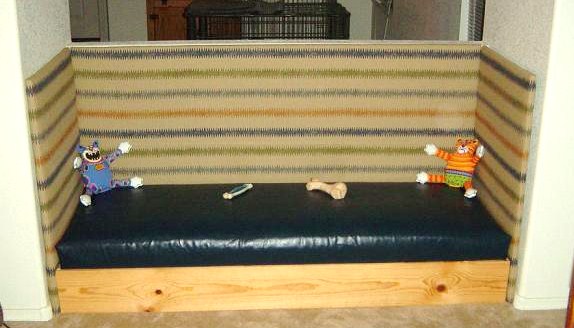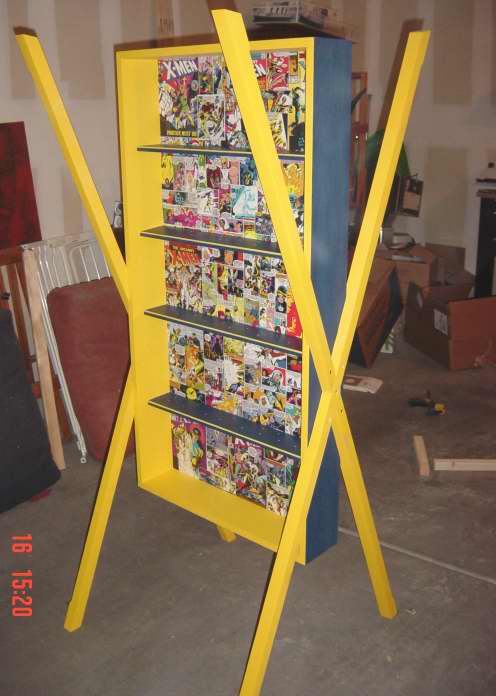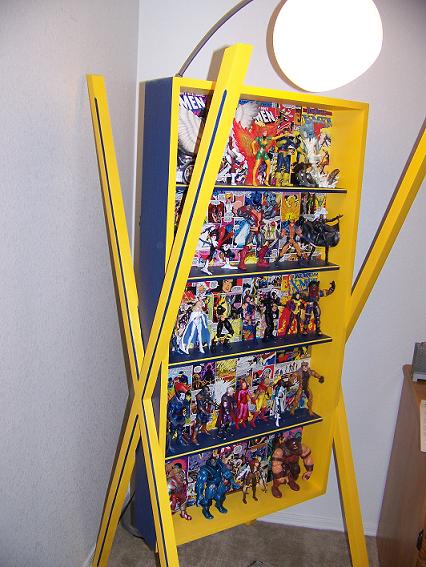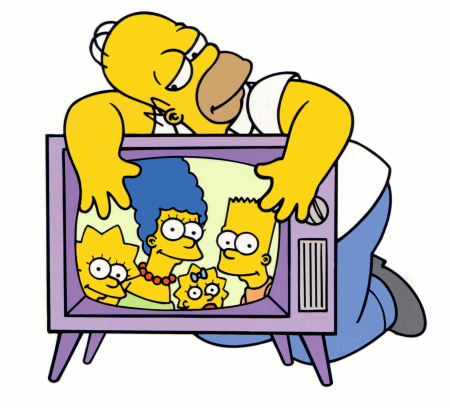 THE END
Posted by johnfrommelt at 6:11 PM
Updated: Saturday, 23 June 2007 6:39 PM